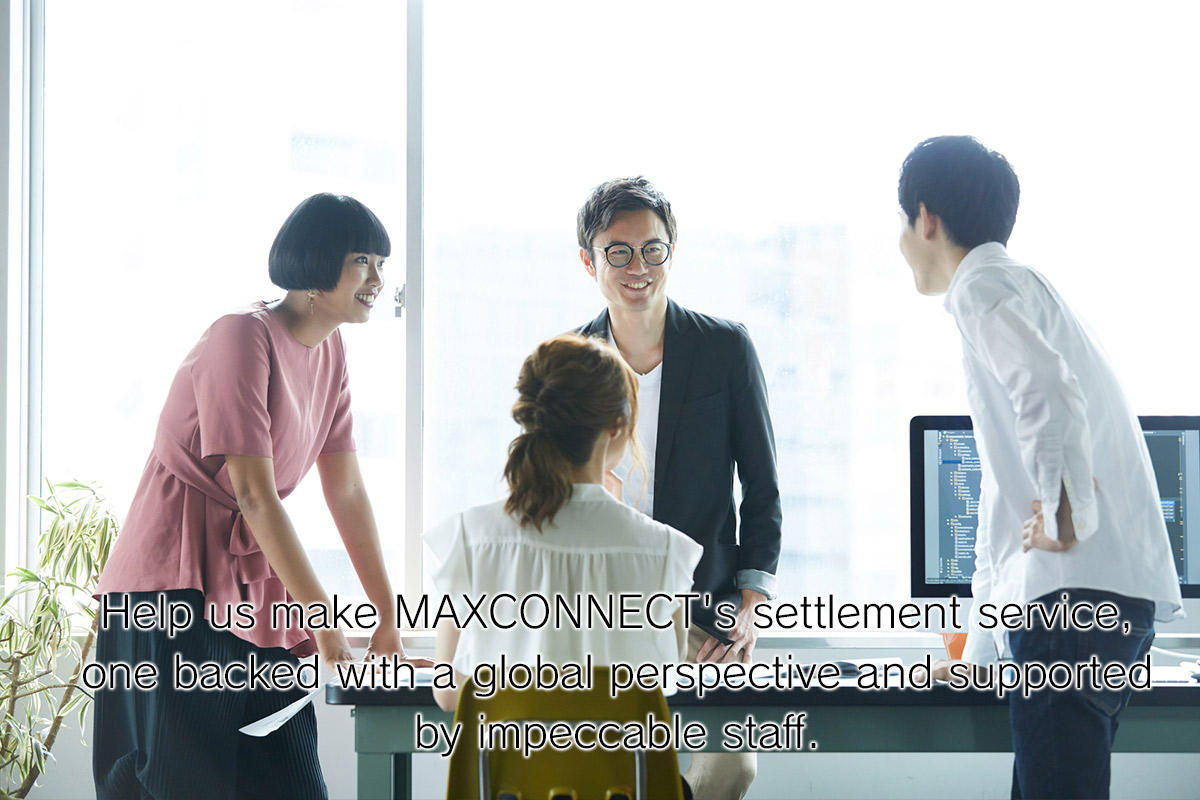 MAXCONNECT has offices in Japan, Singapore, and Malaysia. With staff members composed of different backgrounds, we respect and cooperate with each other seamlessly, using our shared knowledge to improve the quality and technology of our services. In our endeavor to provide payment solutions to customers around the world, we are constantly approaching our services from different angles; to discover new and innovative ways in improving our varrious services. We aim to realize current and future needs for our customers that seek to improve their businesses, backing them up with a service spirit cultivated in Japan. We at MAXCONNECT strive to become a settlement service used worldwide.
Sales/Marketing

Provide information to all our customers with inquiries about MAXCONNECT's payment service. While also thinking about how our payment service is used or can be improved for our customers.

SE/Programmer

The System Development Division mainly engages in contract development of external projects and development of business systems for improving internal operations. Regarding external projects, we have received high praise from all our customers, due to our technical strength which was used in the development of the settlement system.
Sales/Marketing
Job category

Sales/Marketing

Recruit background

We are looking to expand our business platform.

Annual income

Monthly salary from 250,000 yen to 450,000 yen + incentive + various allowances + bonus once a year
* Overtime is paid separately.

Job Description

This position's main objective is to introduce our service and make it appealing to companies and individual business owners
who are operating online shopping sites and real shops.

Required skills

College Graduate
*Basic PC skills are okay, as long as office e-mails, duties, etc. can be completed.
3 years or more in sales experience (preferential treatment)
Languages
Japanese: Business

Work location

H1O8F, 8-6 Nihonbashi Kobunacho, Chuo-Ku, Tokyo 103-0024 Japan

Employment status

Full-time employee
Trial period is until 3 months after joining (No change in condition during trial period)

Annual holidays

120 days

Insurance

Health insurance / Employees Pension insurance / Employment insurance / Occupational Accident insurance

Allowances

Payment raise once a year (July)
Bonus once a year (December)
Transportation expenses fully paid
Overtime fully paid
Business trip allowance
Job allowance
Housing allowance (according to company regulations)
Reward
Company trips
Smoking area provided

Holidays/vacations

Full work week with two days off (Saturday&Sunday)
Public holidays
GW vacation
Summer vacation
New Year holiday
Paid holidays
Extended vacation
* It is possible to acquire consecutive vacation days for more than 5 days
SE/Programmer
Job category

SE/Programmer

Recruit background

We are looking to expand our business platform.

Annual income

Monthly salary from 250,000 yen to 450,000 yen + incentive + various allowances + bonus once a year
* Overtime is paid separately.

Job Description

Creation, modification, and development of our currect payment services and other functions.

Required skills

College/University Graduate
Programming Languages:
Java, HTML, Apache/Tomcat
Database knowledge:
PostgreSQL
OS:
Windows Linux
(Preferential treatment for SE and programming experience)
Languages
Japanese: Business *If Japanese level is Intermediate or lower, English must be Fluent/Native.

Work location

H1O8F, 8-6 Nihonbashi Kobunacho, Chuo-Ku, Tokyo 103-0024 Japan

Employment status

Full-time employee
Trial period is until 3 months after joining (No change in condition during trial period)

Annual holidays

120 days

Insurance

Health insurance / Employees Pension insurance / Employment insurance / Occupational Accident insurance

Allowances

Payment raise once a year (July)
Bonus once a year (December)
Transportation expenses fully paid
Overtime fully paid
Business trip allowance
Job allowance
Housing allowance (according to company regulations)
Reward
Company trips
Smoking area provided

Holidays/vacations

Full work week with two days off (Saturday&Sunday)
Public holidays
GW vacation
Summer vacation
New Year holiday
Paid holidays
Extended vacation
※ It is possible to acquire consecutive vacation days for more than 5 days
General affairs
Job category

General affairs

Recruit background

We are looking to expand our business platform.

Annual income

Monthly salary 230,000 yen ~ + various allowances + bonus once a year
* Overtime payment is not included in the above. Overtime payment will be fully paid separately.

Job Description

General clerk/Accounting

Required skills

Familiar with Microsoft Office.
Over 3 years of experience in General Affairs (preferential treatment)
Over 3 years of experience in Accounting (preferential treatment)


Work location

H1O8F, 8-6 Nihonbashi Kobunacho, Chuo-Ku, Tokyo 103-0024 Japan

Employment status

Full-time employee
Trial period is until 3 months after joining (No change in condition during trial period)

Annual holidays

120 days

Insurance

Health insurance / Employees Pension insurance / Employment insurance / Occupational Accident insurance

Allowances

Payment raise once a year (July)
Bonus once a year (December)
Transportation expenses fully paid
Overtime fully paid
Business trip allowance
Job allowance
Housing allowance (according to company regulations)
Reward
Company trips
Smoking area provided

Holidays/vacations

Full work week with two days off (Saturday&Sunday)
Public holidays
GW vacation
Summer vacation
New Year holiday
Paid holidays
Extended vacation
※ It is possible to acquire consecutive vacation days for more than 5 days